Buy a high quality oil painting reproduction of Edward Hopper, Nighthawks
Our high-quality oil painting reproductions are hand-painted on the finest canvas using only the finest pigments. Oil painting reproductions are used in interior design to adorn your home or business.
How Hopper, Nighthawk reflect its time
Edward Hopper's whole world was New York, and he knew it better than most people. He knew as well that you can feel completely alone even if you live in one of the busiest and most crowded cities in the world.
On January 21, 1942, Nighthawks was finished. Just a few weeks after Pearl Harbor was bombed and the United States joined World War II. That doesn't mean the war had a direct effect on the painting, but the feeling of dread that many Americans had must have influenced it. New York held blackout drills and turned down the lights in public places because people were afraid of air raids. As people left the streets, Hopper's city became dark and quiet "The route went by miles of tenements, and the passengers could see into each window. All the people who lived in the tenements got in return was a sense of being close to the passing parade."
Edward Hopper became famous late in life
For many years, Edward Hopper took the elevated El-train to work. He was a failure in his 40s and couldn't sell a painting. He didn't like his job as an illustrator for a magazine, but he needed the money. Critics didn't pay much attention to his work, while other artists had success and fame. But Hopper was sure of his talent, and even when he was broke, he only did illustration work three days a week.
Hopper's said: "Illustration wasn't something I was interested in at all. I only did it to make money, that's all." He painted beautiful pictures for the rest of the week. He lived in New York City his whole adult life. Most of it was in a small Greenwich Village walk-up apartment.
His relationship with JO would turn the tide
At some point, Jo, his wife, would move in. It wasn't a happy marriage because they fought a lot and sometimes got violent. They were also very dependent on each other. They wouldn't talk to each other for days at a time, and they didn't say much to each other for most of their marriage. We can see this in the way he always paints unhappy couples who aren't close to each other. Couples who live in different worlds even though they share the same space. Then, when he was 42 years old, he had his first show that sold out.
He quit his job as an illustrator right away and spent the rest of his life making art.
In 1924, the same year he got his own show, he married Jo. When they got married, they were both in their 40s, and they stayed together for 43 years. Before they got married, Jo was a somewhat successful artist, and it was she who brought him to the attention of curators at the Brooklyn museum. They bought one of his paintings, which helped him get his career started.
Edward's success was due to Jo, but he never thanked her for it. "It seems to me that women are the ones who show gratitude," said Jo Hopper.
In fact, Edward, who was always sad and quiet, would make fun of his wife and her artistic skills the whole time they were married. Jo would answer back with her own insults. She was jealous and possessive, so she wouldn't let any other women pose for him. She posed for all of his paintings, even "Girlie Show," which he made when she was 60 years old.
Their bad marriage probably had something to do with the way the artists drew people who seemed emotionally unfinished. In Hopper's paintings, couples don't talk to each other, touch, or show any kind of love. The characters' relationships aren't clear, and they don't talk to each other. They are not in touch with themselves or with us.
Jo and Edward Hopper loved going to the theater and the movies, and nighthawks makes us feel like we are watching a scene on a lit stage in a dark theater. His compositions were often influenced by set design, stage lighting, and the aggressive cropping and angles we see in movies.
Looking at Hopper artworks the right way
When looking at Hopper's work, it's important to pay attention to how it was made. Finding the right topic caused him a lot of stress. Once he made up his mind, he spent months researching, planning, and mostly sketching. There are 19 sketches for Nighthawks that have been saved, but he would have made a lot more.
Hopper would draw from life to get a sense of how things looked, and then he would rely on his subconscious to finish the composition of his paintings.
We know that Jo posed for the woman and Edward posed for the three men because Jo wrote about the painting.
He didn't think much of the years he spent drawing for magazines, but along with the skills he learned for getting ready, it helped him get better at telling stories.
Nighthawks composition explained
He planned Nighthawks like he was running a movie studio.
Before he started painting, he made a storyboard of the painting. He planned the props, the position of the hands, the distance between the couple, and their clothes. Jo kept a record of everything. Then, like an architect, he figured out the angle of the diner's window and where it was in the street. Hopper paints the diner with strong diagonal lines that meet off-screen and give the impression of a space outside the painting. But the eye should also be drawn to the right.
No matter which side of the painting you look at first, the clever use of perspective draws your attention to the four people in the diner. He does this with color as well. Outside the diner, the dark red and green colors stand out against the bright yellow inside, causing our eyes to move from the outside to the inside. There isn't much going on outside the diner, and what is there isn't very interesting.
We see a cash register in the store across the way, which is otherwise empty. A sign is hanging above the diner. But there is no one in the buildings around. This is a closed world. The large window not only separates the viewer from the characters, but it also draws attention to the quiet inside the diner and gives the movie a voyeuristic feel.
Like specimens in a jar, the characters are stuck. So many of Hopper's works are about windows and people looking through them. And we often look at things from a certain angle. Even though he was often put in the same category as "American realist painters," he once said, "I still think of myself as an impressionist."
The ideas of one artist, Gustav Caillebotte, in particular, were crucial and are rarely talked about it. His paintings often have a window theme, but he also influenced Hopper's loose brushwork, use of saturated colors, urban settings, and points of view. Hopper was crazy about light, just like the Impressionists. The year before Hopper painted Nighthawks, Vincent van Gogh's "Cafe terrace at Night" was shown in New York.
We know that Hopper saw and liked the painting. Both scenes are lit by lights that were made. In van Gogh's case, it was gas lamps.
In hopper's diner, the light comes from neon lights, which were fairly new in the 1940s. This gives it a strange glow, like a lighthouse on a dark street corner. The setting at night is sad, which adds to the emotional power of the work. Suggesting danger or uneasiness.
Hopper's paintings often showed a certain time of day. From the beginning of his career, nighttime seems to have been a time of worry for him. If you're looking for a door to let us in, there isn't one. There is no way in or out of the diner because it is airtight. Keeping the viewer away very well. Only from the outside can we look in. We think that the door we see leads to the kitchen. What genuinely interested Hopper was how people felt and how they related to each other. He was interested in the lives of the people he had seen on the El, in offices, restaurants, and apartments.
Each character is living in his or her own world. As usual with Hopper, they don't seem to be talking to each other. They seem to give off tension. He was good at making these kinds of stories, where the viewer has to fill in the rest of the story. He plays with what we think we know and what we don't know.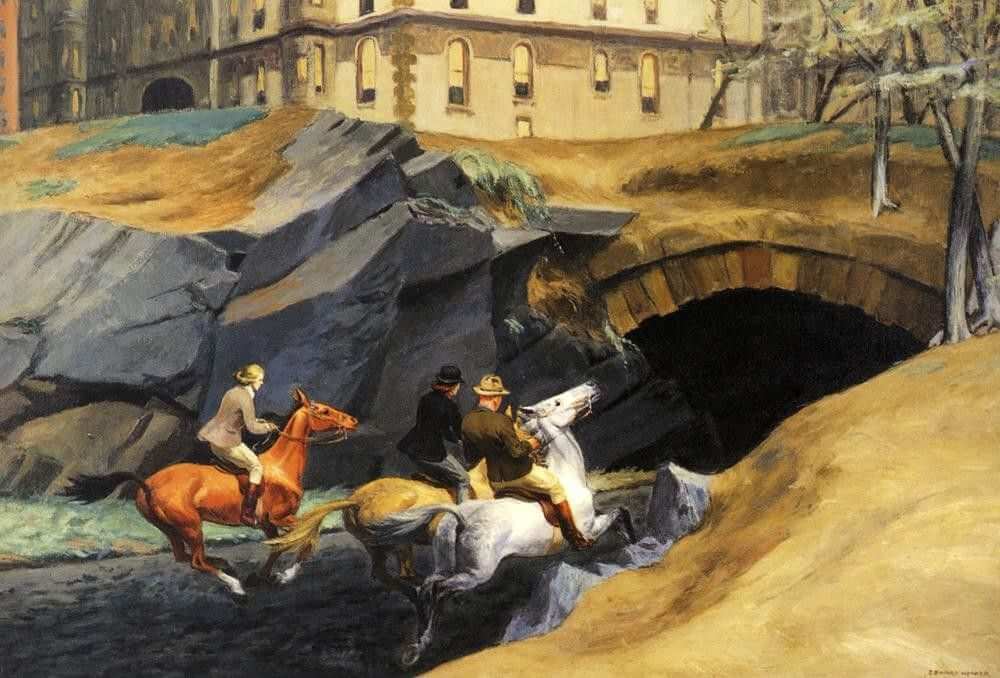 The picture above (Hopper, bridle path, 1939), which was painted two years before Nighthawks and has nothing to do with it, is about something entirely different, but there is still a feeling of dread. A feeling that the story will go on after the picture is over, that something will happen.
The lack of emotional connection between couples was a recurring theme in Hopper's work, and it got stronger as he got older and his relationship with Jo grew further apart. Even though they are close physically, they are very different mentally. Do they even go out together? At first glance, it looks like their hands are touching, but they are not. His coffee cup is ice-cold, but hers is still hot. Maybe he's trying to say that he's been waiting for her for a while.
The name of the painting came from Jo, who said that this person had a nose like a hawk's. In Hopper's original sketch, the woman was holding the unlit cigarette in her hand. Now, it is in his hand.
The couple makes the lonely man with his back to us seem even more alone. When we look more closely, we can see that he has a glass in his right hand and a newspaper folded flat in his left.
The war news was probably all over the front page. No one seems to know who this odd glass is for. Could it be for us? The waiter, like everyone else, isn't talking to or even making eye contact with anyone. He does nothing but look out the window. People have been trying to figure out where the real diner is since he painted Nighthawks. Following the artist's hints from different interviews. People walked around New York for months without getting anywhere. The reason is that the diner was never in New York. It was always in the same place: inside the mind of Edward Hopper. Nighthawks is thought to have been inspired by Ernest Hemingway's short story "The Killers," which came out in 1927. It's about two bad guys who go into a diner looking for their next victim. Hopper's Nighthawks, in turn, was the inspiration for the classic 1946 movie version.
The most American artist, Hopper, loved movies, and the most American art form, movies, loved him back. He often went to the movies alone late at night to get ideas. The main thing that influenced him was film noir, and we can see this in what many people think of as the first film noir, which came out a year before he finished Nighthawks.
The director of "Force of Evil" is said to have taken the cinematographer to an exhibition of Edward Hopper's paintings and told him that he wanted the movie to look like those paintings. Hopper said that the German Expressionist movies he saw in Paris may have had an effect on even his early works.
Hopper is one of the most important artists of all time, especially when it comes to filmmakers. His use of high contrast lighting, his American settings of anonymous apartments, diners, and bars, and his extreme cropping and decentralized framing would inspire a new generation of filmmakers. But especially, they would get ideas from the people he painted. Characters waiting for the story to be told about them. The movie version of "Nighthawks" was true to the book. With the diner becoming an easy way to get to emotional problems. Like the best movies, Nighthawks is not just about style and composition. It is a masterwork that can tell us a story in a single frame that goes far beyond the picture plane. As he said "It probably shows my own loneliness, but I don't know. Unconsciously, probably, I was painting the loneliness of a large city."
Edward Hopper's Nighthawks shows a world of loneliness, isolation, and quiet pain. The Art Institute of Chicago bought the painting, and it was a hit right away. It is still there today.
Hopper was known as the quiet man of American painting, but he was a complicated and troubled person. He was smart, but he had trouble finding inspiration and figuring out what life was all about.
His paintings took months of planning and hard work, and he only made about five or fewer paintings a year. He often felt like an outsider himself. He was a very tall man at six feet five, and by the time he was 12, he was already six feet tall. A fact that almost certainly made him feel even more alone and isolated.
He was always alone because he was too shy to talk to anyone. Even as an adult, he was very shy and uncomfortable in social situations because of this.
It seemed like his years of being alone were over when he married Jo. But many people find out that even if they are in a relationship, they can still feel completely alone. Hopper's paintings show us that it's normal to feel this way. That feeling lonely or alone is pretty common. And, in a strange way, his paintings show us that we are not really alone